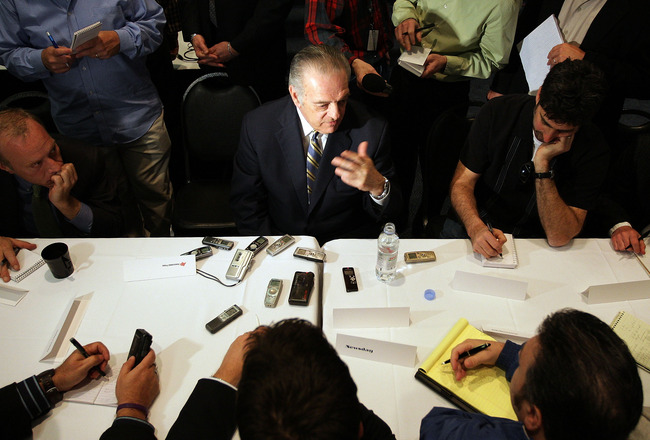 After two years of clearing cap space, Donnie Walsh now finds himself in a situation similar to when he first arrived at 2 Penn Plaza. He is capped out.
The Knicks' season this year could be deemed successful or not, based on your expectations from the beginning of the year. Nevertheless, any NBA fan knows the team-building mission in New York is incomplete.

Assuming the new CBA is similar to the one the league has now, the Knicks will be able to use their Mid Level exception this summer, as well as sign players to minimum contracts, which varies based on how many active years a player has in the league.
Below is the Knicks' current salary commitments, with a few fair assumptions being made, and assuming that Bill Walker's contract is NOT a team option, but actually fully guaranteed (Sham Sports, a leading player salary site, does not show that Walker is a team option.)
Do note however that the midlevel exception (roughly 10% of the salary cap under the current CBA) can be divided up among multiple players. Lastly, Ronnie Turiaf, a player whose career history is filled with injuries, has a player option for 4.6 million for next season.
So, what you can see is that under the current CBA, the Knicks can use the full MLE on one player to address a specific need or divide it amongst 2 or 3 players. They also have the 17th pick in this year's draft to fill a need, and also veteran minimum contracts.
Are there obtainable talented players with these restrictions? The answer would be yes, but the Knicks won't be the only attractive team with this financial situation. The Miami Heat's situation is nearly identical, minus the draft pick, but no state income tax and warm weather may make up for that.
Nevertheless, with Donnie Walsh allegedly back in the fold, the Knicks have an executive who operated Indiana teams that were able to improve record wise year to year while still being over the cap. Coming off of a finals run in 2000, Walsh saw the 2001 Pacers slide under new coach Isiah Thomas to a record of 42-40.
Following a first round playoff exit that year, Walsh didn't stand pat at the 2002 trade deadline. He moved key title run pieces in Jalen Rose and Travis Best to acquire Ron Artest, Brad Miller and Ron Mercer.
Next February, he'll most likely have the option to do something similar with Chauncey Billups expensive expiring contract.
So Knicks fans, have some faith if Walsh is back that the right guy can find the bargain basement pieces to turn this franchise around, but it won't be easy.
Written by: @bnr1986