The New York Knicks have lost games to the Wizards, Pistons and Bobcats this month, so you can forgive me if I wasn't optimistic about their prospects against the 13-2 Trailblazers in Portland last night. Portland, of course, is exactly the kind of team that gives the Knicks fits; they've got a speedy, scoring point guard in Damian Lillard, two talented, two-way wings in Wes Matthews and Nicolas Batum, an impossible to guard big in LaMarcus Aldridge, and a defensive-minded seven-footer in Robin Lopez to plug up the middle. Oh, they also have team cohesion and a game plan – things the Knicks completely lack.
The first half was the same old story, wash-rinse-repeat. Early on, Beno Udrih (still starting) had trouble tracking Lillard, and once again, any Blazer movement threw the Knicks into a cycle of switching. Last night, however, the Knicks tried something different. Instead of accepting horrible mismatches off their switches, New York just straight up left guys open.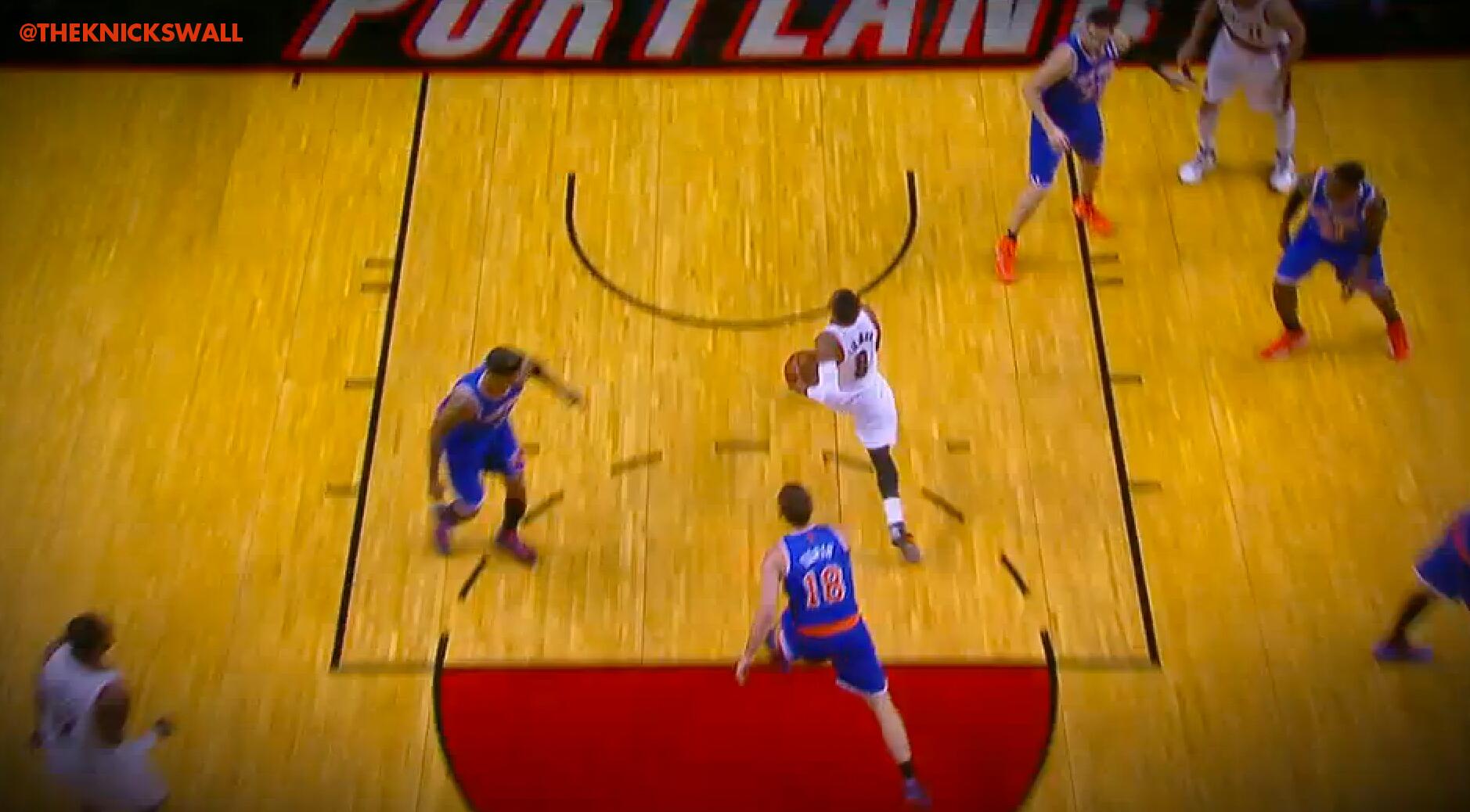 Offensively, Carmelo Anthony once again did his best to make things happen by shouldering the load. The Knicks' offense featured a heavy dosage of Anthony posting up the smaller, slower Matthews, but still-missing was the spacing that New York so often enjoyed last season. Iman Shumpert didn't score. Andrea Bargnani's and Udrih's shots didn't fall until garbage time. Kenyon Martin was good for some nice pick-and-pop or catch-and-shoot jumpers, but but you know you're in trouble when he's your floor general — K-Mart made four of his first five attempts and amassed five assists in the first half. J.R. Smith continued his offensive stupor. Amar'e Stoudemire, while active, found himself once again halting the Knicks' offense, forcing the ball down low with mixed results. Metta World Peace looked more lost than ever as he clanked jumpers off the rim.
It was another dreadful effort by New York — this game was largely decided in the first quarter — and it is clear that this team is beyond lost. Sadly, there are no easy answers and no quick fixes to what ails them, either. Now at 3-10 and tied for last place in the Atlantic Division (with the Nets, ironically), it's fair to wonder how long Dolan will stick with Mike Woodson.
What Went Right
One has to feel for 'Melo at this point. Though he's never been the portrait of hustle, but he's been battling night-in and night-out to try and turn this losing streak around. He racked up 34 points on 25 shots, wrestled 15 more rebounds (13 of them defensive, so he's not just going after his own misses on the offensive glass), and dished out 3 assists. He had his let-ups in shot selection and team defense, but for the most part, the Knicks' best player fought on both ends, even showing some legitimately great effort in the second half to contest shots and rotate when appropriate. He just has no help around him.
Martin disappeared in the second half (likely due to pure exhaustion), but he was nearing a triple-double in his 25 minutes. Yes, you read the right. K-Mart finished with 10 points on 5-of-9 shooting, 5 rebounds and 6 assists. For a brief stretch, he was actually the Knicks' best player on the court. Good for Martin, good for the Knicks to get quality play from a backup big, but it's certainly not a recipe for continued success.
New York actually hung tough with the Blazers on the boards, grabbing 44 to the Portland's 46. New York also racked up 24 assists to Portland's 19, and the two teams tied with 9 turnovers each. The Knicks simply lost by failing to get enough production from anyone not named Anthony or Martin.
What Went Wrong
What didn't go wrong?! Bargs and Beno weren't horrible, I suppose, but you are not going to steal wins on the road from good teams when two of your starters are basically wallflowers. Though the pair combined for 29 points on 12-23 shooting (5-7 from deep), they simply didn't contribute elsewhere. Bargnani's defense in non-isolation situations is still atrocious, and Udrih didn't have a prayer of sticking with Lillard. (Prigioni only played a quiet in his 17 minutes, by the way.)
Iman Shumpert. Oh, Shump. In Shump's defense, he's been tossed around by media and the coaching staff this season, and his name has been in trade rumors. Conversely, Shumpert is playing — let's face it — stupidly on both ends of the floor even though his name hasn't really been in any reported trade rumors for about a week now. His ability to shoot has vanished, his attempts to create off the dribble are ill-fated, and his once heralded defense is fleeting, at best. Frankly, he's just been hurting the team lately.
Maybe Mike Woodson really doesn't deserve to shoulder too much blame of the blame for this one, but when it comes to effort, this team just isn't giving it. That is not to say that Woody puts his team in the best spots to succeed, either, though. For instance, the Udrih-Smith-Anthony-Stoudemire-Bargnani lineup never gets a stop. Ever. They're allowing the opposing team to shoot something like 147% from the field. Also, with Smith and Shumpert struggling mightily, Tim Hardaway Jr. remains glued to the bench. And still no Cole Aldrich or Toure' Murry, two players that fill needs for this team. Maybe Mike Woodson really does deserve to shoulder a lot of the blame for this one.
Knick-Knacks
Woodson and the Knicks got angry at the refs for missing a bunch of push-offs by Batum. On several occasions, he created space for himself by simply shoving whoever was defending him. Then again, Batum once did this, so it's not surprising.
Stoudemire deserves heaps of criticism for the way he stops the ball on offense and gets abused on defense. However, he was considerably more active tonight, grabbing 6 rebounds (a few in traffic) and finishing halfway decently around the rim. He finished with 10 points on 5-of-12 shooting, 6 rebounds and 2 assists in 25 minutes. Baby steps?
At one point in the first half, Mike Breen said something to the effect of " the Knicks defense is completely missing, on offense they have no cohesion, and they simply aren't getting the performances they need from their best players." That's why they pay him tor big bucks! #Analysis.
New York heads to Los Angeles to face the Clippers on Wednesday night. And guess what, their next three games will come against Chris Paul, Ty Lawson, and Jrue Holiday. Good times await!