For the Knicks fan who can only stand to be a Knicks fan for 15 minutes per week: So much intrigue is happening now that the Knicks have hung them up for the season. This weekly series is here to help you keep track of it all. 
Who is the main character in this drama, Melo or Phil? Phil Jackson stated his case, sending two supporting cast members home, garnering an upgrade at PG, a rim protector, and draft picks. Melo is doing plenty, off screen, meanwhile...
1. Felton & Chandler Traded
The Knicks sent Raymond Felton & Tyson Chandler to the Mavericks for Samuel Dalembert, Jose Calderon, Shane Larkin, Wayne Ellington, and 2nd-round picks numbers 34 and 51.
The theme among the Knick writers on Twitter as the trade went down was that, with this trade,  Phil's "rebuild was on" and that this was "the start of something". Phil said as much in a brief conference, that the chemistry among the players needed a change.
Phil Jackson claims Carmelo liked #Knicks trade and hopes he's "good for his word.'' http://t.co/BZiros5Mjh

— Marc Berman (@NYPost_Berman) June 27, 2014
From Kirk Goldsberry's Twitter: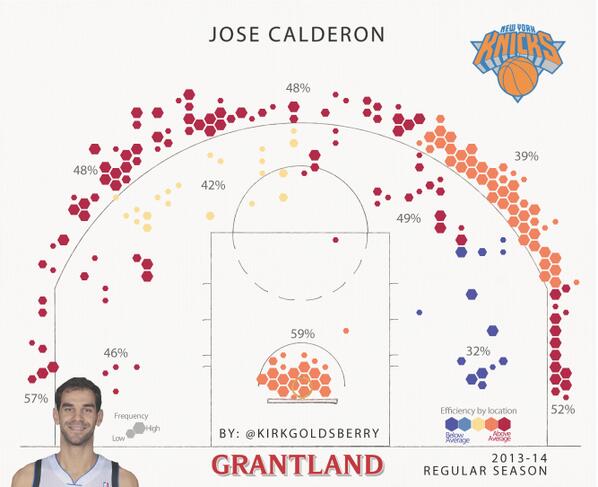 2. Opting Out
On Monday, Carmelo's agent Leon Rose made it official: his client will opt-out of his contract and explore free-agency. Melo said back in October that this was his plan.
 Here's the only thing he's really said amidst the noise and rumor:
3. Rumor Has It
Carmelo's decision to opt out came a day before LeBron James made the same decison. Between the two of them, the rumor mill has been churning non-stop. Those that have been following the situations have seen the phrases "sources say" and "according to reports" on what seems like an endless loop. Here's some of the best fodder for the mill:
Within a larger piece on the state of the NBA, netw3rk writes in Grantland about the current climate of rumor and speculation this summer:
If you listen to the Lowe Post podcast from this week, you will hear Zach Lowe and Brian Windhorst — two of the most rational, well-connected reporters in the business — describe a volatile NBA landscape of interlocking, potentially cascading deals. It sounded like they were just waiting for Gavrilo Princip to shoot Archduke Ferdinand. Or, in this case, for Kevin Love to get traded.
4. Get In Line
The number of teams involved in the Carmelo Anthony pursuit has ballooned from just New York and Chicago.
Teams that have been associated with Carmelo for next season, either with reports that the team has interest in him, or players from those teams saying they'd like to play with him:
Knicks, Bulls, Rockets, Mavericks, Heat, Clippers, Lakers, Celtics, Hawks, Lakers
5. The Draft
The trade that sent Chandler and Felton away garnered the Knicks two picks in the 2nd round of the draft, which many considered to be the deepest it's been in years.
At pick #34, the Knicks selected Cleanthony Early out of Wichita State, a player many thought would be selected in the 20′s and who by all accounts was considered a steal when available at 34.
Welcome to New York, @Clearly_BallLyf – pic.twitter.com/8trGfkD8du

— The Knicks Wall (@TheKnicksWall) June 27, 2014
At pick #51, the Knicks selected Thanasis Antetokounmpo (brother of the Greek Freak Giannis) from the D-League Delaware 87ers.
At the eleventh hour, it came down that the Knicks had bought the #57 pick from the Indiana Pacers for cash, and with that selected Louis Labeyrie from France.
Knick Knacks:
Cleanthony Early highlights:
Thanasis Antetokounmpo highlights:
-In the draft, Jalen Rose poked fun Andrea Bargnani and his current contract with the Knicks. When they showed past foreign born #1 overall picks in a group that Andrew Wiggins will now join, Andrea Bargnani's image was shown from 2006. Rose shouted "keep gettin dem checks, Bargnani!", insinuating that his salary far surpasses his current value.