DeAndre Ayton is a tantalizing big man that dominated college hoops as a freshman. How would he be able to complement Porzingis should the Knicks find some lottery luck?
Pac-12 Player of the Year, consensus first team All-American, NCAA leader in double-doubles. It's fair to say that DeAndre Ayton dominated in his short stint as a college basketball player. The highly-decorated student-athlete Ayton, in his one and only season at the University of Arizona, put his elite skill set on display all season and was absolutely sensational.
Highly touted coming out of Hillcrest Prep Academy in Phoenix and ranking third in the annual ESPN top 100 recruits, the 7-foot-1, 250-pound Bahamian big man was a double-double machine all year for the Wildcats to the tune of 20.1 points per game on 61 percent from the field, 11.6 rebounds, and 1.9 blocks (per ESPN Stats). The versatile Ayton also showed off his ability to knock down the three-ball and was much better from the charity stripe (73.3 percent on free throws) than you would expect from someone of his stature.
As we all know, Ayton was caught up in a bit of controversy towards the end the season when he was suspected of receiving substantial financial compensation upwards of $100k from Arizona coach Sean Miller to come play at the school. Despite the distraction, Ayton continued to ball out and be the clear cut young leader of an Arizona team with some talented vets like Allonzo Trier and Rawle Alkins. Character doesn't seem to be a concern at all for Ayton, as he appears to be a very humble and coachable kid.
Video: via ESPN
Strengths
Ayton checks every box offensively and has proven to be a matchup nightmare due to his freakish athleticism and versatility. His ability to finish around the rim, coupled with his gradually improving jump shot, can make him virtually unguardable at times. Ayton also has some old-school big man traits, sporting a back to the basket game that we don't often see anymore. Throw in Ayton's ability to hit free throws and smart decision making and you have yourself a complete player on the offensive end.
His passion for the game is on display often. He wears his emotions on his sleeve but doesn't get too out of control and, more importantly, doesn't really take plays off. Maturity does not seem to be an issue for Ayton, despite being only 19 years young.
Weaknesses
Although I feel like I'm nitpicking here when talking about flaws in Ayton's game, there are some things that he could definitely improve upon. For example, Ayton had some trouble defending smaller, quicker guys and also had difficulty on defensive rotations. Ayton got burned a lot in Zona's lone NCAA tournament game and struggled to position himself correctly: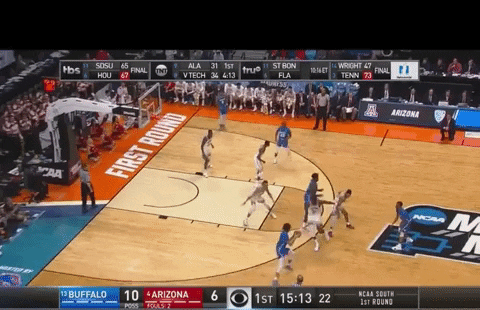 Despite Ayton's woes on the defensive end, he is not a bad defender by any stretch. All of these issues can be corrected at the next level and he can be on his way to fulfilling that elite defender potential he has inside of himself.
Aside from his defensive shortcomings, Ayton at times seemed to hang around the perimeter a bit too much on offensive possessions and didn't give himself an adequate opportunity to impact offensive possessions as often as he could've.
All of these criticisms of Ayton are nothing that should be overly concerning for a potential GM looking to select Ayton in the draft, considering that all should be fixable with the right system and coaching.
Pro Comparison
Perhaps the most intriguing part of analyzing draft prospects is taking a look at what current or former players they draw comparisons to. In the case of Ayton, "Shaq with athleticism and a perimeter game" and "Karl-Anthony Towns 2.0" are a couple of common associations that have been thrown out there. Maybe we can pump the brakes on comparing him to Shaq, although there is a notable similarity in the dominate aura that surrounds both O'Neal and Ayton.
At this point, however, KAT seems like a more realistic player to juxtapose next to Ayton, so we'll roll with that.
Both Ayton and Towns spent one season at a big time basketball schools and played exceptionally well. Despite Towns only averaging about 10 points and six boards on a loaded Kentucky Wildcat team, we knew KAT didn't even scratch the surface of his superstar potential.  Now in year three, we can agree that Towns is a top-tier big in the game and has played a major role in transforming a dysfunctional Timberwolves franchise into a force to be reckoned with in the Western Conference for the foreseeable future. Towns, like DeAndre Ayton, excels at the free throw line; he can also average a double-double in his sleep and step back beyond the arc to knock down a triple. Ayton possesses a bit more athleticism and explosiveness than Towns, meaning his ceiling could be even higher. Finally, one of the most underrated qualities of Towns' game is his durability. KAT has consistently played 82 games, and Ayton's ability to stay on the court could be the difference in him being a good player and an all-time great.
Another guy who compares well to Ayton is Joel Embiid, as their versatility and on court intensity are reminiscent of one another.
Fit With the Knicks and Draft Availability
Ayton is a potentially transcendent and generational talent that no team should even consider passing on. His bust potential is the lowest of any potential lottery pick in this draft, and as such, he should be the first overall selection. He's a near lock to be one of the first two picks in this draft, so New York would have to miraculously move up high enough to snag him.
Let's just say the Knicks have the ping pong balls bounce their way and somehow are able to get their hands on Ayton. He would fit in exceptionally well with the current roster they have. The thought of two seven footers with similar skill sets on the floor at the same time does seem a little bit awkward and somewhat crowded, but Ayton could complement KP very well with his post game and his ability to be more physical down low than KP is due to his absurd physique. Ayton coupled with Porzingis would probably be the most dominant frontline in the NBA aside from Anthony Davis and a healthy DeMarcus Cousins. Imagine the amount of lobs and jams that we would see on a nightly basis from the Knickerbockers?
Ayton would also help take the pressure off of KP offensively and create additional space for the guards to operate, as he would be able to draw defenders out to the perimeter.
Don't expect DeAndre Ayton to be on the roster next year due to the sheer odds the Knicks are stacked up against. Despite this, watching Ayton play for the next 15 years or so should be a treat to every basketball fan out there.