The bank shot is a dying breed of NBA field goal attempt, but it isn't dead quite yet thanks to New York's best player.
Learning to play a sport as a young kid is a rite of passage. There is nothing quite like the first time you hit the ball out of the infield, the first goal you score, or the first basket you make. The lessons learned when people are young stick with them for the rest of their lives, and early sports lessons are no different. Each sport has its own set of coaching points that all coaches attempt to instill in players, and during the formative years for children in basketball, one lesson is always taught: that big box on the backboard is your friend. My little sister came home after her first basketball practice when she was six years old, and with my love for the game already well established at that point, I was eager to hear what she had learned. All she said was, "I am always going to aim for the magic box when I shoot!"
As NBA teams have shifted their focus beyond the arc, the prominence of the bank shot has decreased significantly. Post play has been relied upon less, with those that boast that facet of the game as their best skill suddenly dinosaurs that were eradicated by Steph Curry's rise to superstardom. As a result, the post game is much different than it used to be, and using the backboard isn't a skill that many players lean on often. The one player that uses the bank shot more than anyone in the league is the large Latvian man making his first All-Star game appearance in just a few short days, Mr. Kristaps Porzingis.
KP has attempted 51 bank shots this year, 10 more than any other player (Jimmy Butler is second). He's nailed 27 of those attempts, good for a 52.9 percent clip. For the nine players with at least 30 bank shot attempts this season, only Dwight Howard has a worse shooting percentage, but there's a caveat here that must be considered. When he calls glass, KP does it from the furthest length of any player this season, with an average distance of 9.9 feet from the hoop. His efficiency could be expected to take a bit of a dip considering that type of shot that he calls glass for. Porzingis has had the bank shot in his repertoire from day one, using it to shoot over smaller defenders or while going over his shoulder. His attempts come from further out than most because guys like Kyrie Irving and Russell Westbrook are using the backboard when attacking the hoop with a vengeance. No one has ever used the bank shot in the exact manner that KP has.
Over the last three seasons, only DeMar DeRozan has attempted and made more bank shots than Porzingis. Here's a look at the top five over that period:
The last column is the most important. While DeRozan has attempted more backboard busters, KP has taken about 1,000 less total shot attempts. As a result, 6.5 percent of Porzingis' shots are bank tries, which is the highest share for any player that has attempted at least 55 such attempts, save for Derrick Rose. I'm going to hold back on the jokes there, so make one up in your head, have a chuckle, and we'll move on.
The move that Porzingis pulls the most often when he wants to go glass is what the NBA classifies as a "Turnaround Fadeaway Bank Jump Shot." Of his 27 makes, 14 have come of this variety, which almost always goes exactly like this (entry pass to the left block, establish position, dribble, turn over the shoulder and clank it home):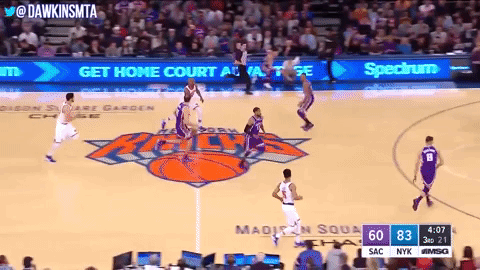 The Robin to the "Turnaround Bank Shot's" Batman is a simple "Jump Bank Shot," which involves Porzingis utilizing his obnoxiously large frame to go over the top of the defense: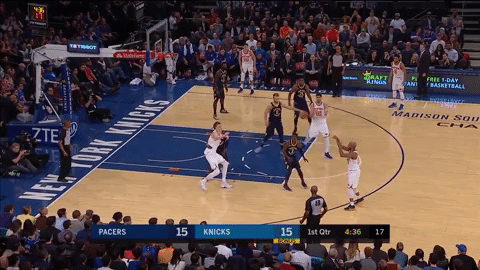 While the efficiency on these shots could stand to increase, these type of plays remains a big part of Porzingis' game. The Knicks post him up from this area of the floor a ton, and seeing as though he will continue to remain the first option for the foreseeable future, the bank will be open for years to come.
---
KP has taken up the mantle that was left barren once Tim Duncan hung up his shoes for the final time. Bank shot data is unavailable prior to the 2010-11, so it's unclear exactly how many glass opportunities Duncan was attempting during his prime, but during that 2010-11 campaign, 13.2 percent of Duncan's shot attempts were window deflections. He led the league in percentage of shot attempts that were bank shots among players with over 50 attempts per year for every season from 2010-11 until his retirement after the 2015-16 season. His bread-and-butter was the flip shot from the block, a move that he turned into a legendarily unstoppable force: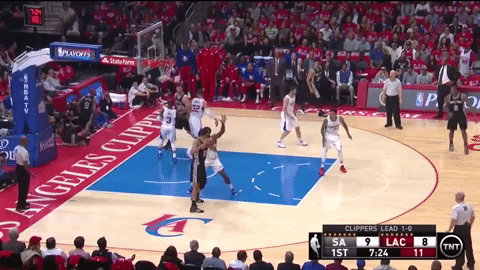 Duncan is an all-time great, one of the best to ever play the game. He defined the backboard shot. Over the last two years, that void has been filled by Porzingis.
The bank shot may be losing a bit of its luster, but players like DeRozan and KP are keeping it alive. Blake Griffin once appeared to be the heir apparent, but he's expanded his game beyond the three-point arc and only has 17 attempts this season after taking 121 as a rookie. Dwight Howard still loves going glass, but no one has ever touted Dwight Howard's offensive game by admiring his work in the post. Bank shots are a uniquely beautiful part of the NBA game, a part that always garners some sort of positive reaction when a player pulls it off. As the NBA changes dramatically, some things stay the same and simply assume a new identity.
The bank shot throne has been assumed by Porzingis with DeRozan as his Hand of the King. May their reign be long and prosperous.