The starting center in New York has been fantastic during his brief tenure in New York. How has he been so successful, and what is the outlook on his future?
The September 25th acquisition of Enes Kanter from the Oklahoma City Thunder was largely overshadowed by the sudden departure of Carmelo Anthony. The huge news of 'Melo finally being shipped elsewhere combined with the ultra low expectations coming into this season for the Knicks caused fans and media outlets alike to sort of pooh-pooh the Kanter pick up. Some even expected him to be buried on the depth chart behind guys like Willy Hernangómez and Kyle O'Quinn. Clearly that has not been the case.
Enes has been flat out awesome this year to the tune of 13.6 points and 10.8 rebounds per game including 63 percent from the field and 84 percent from the line. The 25 year-old was a 19/11 guy a few years back in OKC, and before his NBA career he was all set to attend the University of Kentucky when the NCAA permanently banned Kanter (stop me if your heard this one before) for "improper" monetary benefits. Beyond the stats, Kanter is a guy who understands his role, plays with reckless abandon and is an excellent teammate. We tend to forget how good of a player Kanter is due to the fact that he played the entirety of his career in small markets prior to this season (Utah and OKC).
---
Kanter and KP: The Perfect Match
What has caught my eye the most about Kanter's tenure in New York so far is how quickly he has learned the system and how well he fits in with the team. More specifically, Kanter and Kristaps Porzingis seem to complement each other extremely well. Both have a mutual understanding of what each other's strengths and weaknesses are and look like they have developed a tremendous level of trust just 10 games in. Watching them play with each other you would think that they've been teammates for multiple years:
Knowing where your teammates are on the court is crucial, and Kanter so far seems to know KP's tendencies like the back of his hand. His court vision and willingness to dish the rock with his back to the basket can work wonders for Porzingis, who thrives on moving without the ball towards the rim for alley-oops or easy buckets. Kanter's offensive rebounding prowess also gives more scoring opportunities for KP, which he has taken advantage of in a big way.
From a physical standpoint as well, both no. 00 and no. 6 seem to complement each other very effectively. KP clearly being the more slender, versatile and hybrid-big man who blocks shots and possesses a perimeter game, their fit is seamless. This allows the stockier and more physically imposing Kanter to play a more traditional big man role with his back to the basket and also scrapping down low and grabbing rebounds. Part of the reason why KP looks so comfortable and is excelling this season is due to Enes Kanter and his ability to fill the role at the 5 and perform well. Porzingis isn't a center yet and was sometimes forced into the position the previous two seasons. Now that that role is occupied, KP can go do his thing.
---
Scoring the Rock
Another aspect of Enes' game that I have enjoyed this season are his slick offensive moves like we see here: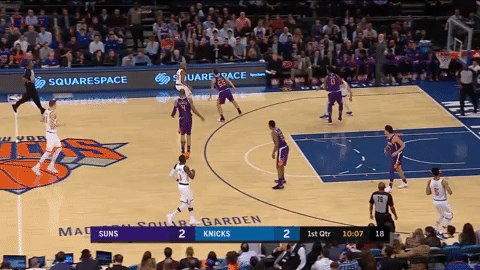 Marquese Chriss is extremely athletic and long, and Kanter made a fool of him here on the low block. Kanter is not the most athletic dude, but he knows how to position himself to give himself an advantage when going to the rim.
He has always been an offensive threat and can really do damage if he is aggressive and given the reigns. I came across this old clip of Kanter dominating offensively and I definitely see resemblance to the type of game he's put on display this year:
Notice the exceptional use of his size and muscle to get in prime position to score. This is exactly what we've been seeing this year, except on a smaller scale. The Knicks should feel confident in getting a bucket when throwing it in to Kanter. He provides an excellent security blanket in case outside shots aren't falling from Tim Hardaway Jr., KP, or the rest of the squad, which is bound to happen at multiple points in the season.
Despite the small sample size, I love what I see from Kanter this season and truly believe he could be a valuable offensive piece going forward. He wont be relied on as much as he was in Utah, which is better for the Turkish center. He doesn't thrive in high volume situations where he is asked to dominate. He does, however, make a much more profound impact in his 25 minute games where he can be efficient and reliable.
---
What About Defense?
It is well documented that defense is not Kanter's strong suit. He often looks overmatched and doesn't possess the shot blocking abilities you'd like out of a guy who is 6'11" and 250 pounds. He's not very fleet of foot on that end, and isn't someone you game plan for, to say the least. It's not a bold take to say he's a liability on the defensive end. However, his deficiencies are often masked because  the Knick defense is pretty much sub-par all around. Regardless of his shortcomings, Kanter's overall game is good enough to the point where you can deal with his inability to guard. If Kanter can improve a bit and start to creep up towards passable, then that would be a blessing for this squad.
---
The Future
Being that Kanter has been already dealt twice in his five year career, there is speculation that he will be sold off to a contending team at the deadline, or even before. I envision him being a hot commodity at the deadline as a potential backup center or starting center barring injury. Kanter is a good, solid player, and very underrated. His services would be of value to any NBA team looking to make a deep playoff run.
The question is, what can you get back for him? If it's another second-round pick, then I don't want to hear any of it. If it's a first or another decent young player? Then I will listen. I'm not saying Kanter is irreplaceable and that the whole rebuild is ruined if the Knicks trade him, but based on what we've seen so far, why get rid of this guy? He definitely has a place on this team going forward and could be a key contributor for years to come. There aren't many specifics to discuss at the moment just yet because we don't know where the Knicks will be come February 8th, but they should be wise when thinking about potentially shopping Kanter.
Overall, I love what I'm seeing out of the five year veteran thus far. Kanter seems to fit the mold of what a great role player should be. His effort and tenacity is exactly what the Knicks need and that definitely rubs off on the younger guys. Kanter embodies New York with his toughness and industrious attitude, and is someone I believe is an integral piece of the Knicks puzzle going forward.