The point guard position has been restocked with fresh bodies. How should Jeff Hornacek deploy his new recruits?

The new era is upon us. The throne of New York now belongs to Kristaps Porzingis and the rebuild around him is in full effect. Around the new centerpiece is Willy Hernangómez, big offseason signing Tim Hardaway, Jr., and top draft pick Frank Ntilikina. A slew of veterans were also brought in–Ramon Sessions, Michael Beasley, Jarrett Jack–as well as Enes Kanter and Doug McDermott in return for Carmelo Anthony.
Lost in the myriad of roster moves has been the best departure of all: the Triangle. It is understood that head coach Jeff Hornacek will finally get his shot at running his own shop. That means the pace will speed up, which will require good guard play. Good guard play from the Knicks has been more dream than reality over the years. Like a NFL team screwed without a quarterback, a basketball team without a good point guard cannot fare well.
The hope is that Ntilikina is the beginning of stability at guard. He was drafted under the assumption the Triangle would be around, and while things have changed in the post-Phil era, Ntilikina can still exist for Hornacek–a former guard–who successfully developed his point guards in Phoenix. Last season, Ron Baker was the only guard he really had to teach. This year he has a willing student and assistance in the form of veterans.
With a good amount of new faces it's key to get a consistent rotation down immediately. Ntilikina should get a majority of the minutes at point guard, but there are still three other mouths to feed. How can Hornacek divvy up the minutes? Let's take a look at each guy.
---
Frank Ntilikina
You know what made me feel a lot better about taking Frank Ntilikina at no. 8? The New York media hated the pick. When pertaining to Knicks draft picks the NY talking heads are like Billy Walsh's mom from Entourage. If they love it's a disaster. If they hate it it's a masterpiece. The Porzingis pick was criticized and we saw what happened. The Ntilikina pick was not met with praise either. And like Porzingis, Ntilikina was met with immediate skepticism.
Anything Frank does this year will be compared to Malik Monk and Dennis Smith, Jr. Many felt both were better options at eight, especially with Phil and the Triangle now gone (but hindsight is 20/20). Ntilikina will not be the athletic freak DSJ is. He will not be the flamethrower Monk has the potential to be. And that's okay.
The biggest knock on Ntilikina through the pre-draft process was his lack of a defining skill. While that could be seen as a weakness, it was also a strength. Since Ntilikina could not rely on blazing quickness or skyscraper tall hops, he had to sharpen every part of his game. With the exception of Fultz, each of the other top point guards has a clear area of weakness. Fox and DSJ cannot shoot well from deep. Lonzo and Monk might have trouble finishing inside. Ntilikina does not share this problem.
Right now, Frank's offensive game could be described as a "jack of all trades, master of none." He is just as capable of playing off the ball as he is being the maestro. His athleticism will be deadly in pick-and-rolls with Porzingis and Hernangómez. He has a good outside shot (43.1 percent last season in France), which allows him to play off the ball, a skill that would have been much more vital had Carmelo Anthony stuck around. This versatility allows Hornacek to deploy his rookie in any lineup.
If the goal is to rebuild in a reasonable amount of time, then Ntilikina has to be thrown to the wolves. He certainly needs to improve his handles. There are highlights were he over-dribbles causing trouble when pressured. This is where his six-foot-five frame could be a big help. You can see he has a feel for the game. His height will give him a bird's eye view other point guards dreamed they had. It also makes him an immediate terror on defense.
Early in his career, defense will be Ntilikina's claim to the starting point guard spot. For as long as I can remember, the Knicks have had human turnstiles in the backcourt. Frank will buck that trend, that is one thing I can guarantee. His 7'0" wingspan and his ability to utilize it will make Ntilikina a miniature version of Giannis Antetokounmpo.
An example of what I'm talking about:
https://twitter.com/TommyBeer/status/913790383301197825/photo/1?ref_src=twsrc%5Etfw&ref_url=https%3A%2F%2Fmedium.com%2Fmedia%2F06ab61f0529faba44ab3e18b23fda296%3FpostId%3D801bdd34a0af
Somewhere Jay Bilas' heart just skipped a beat.
Seriously, with that reach, he's going to be a problem to get around. He could cut off half the court on his opponent and neutralize the speed of some of his counterparts. Ntilikina will get a test in corralling speed demons immediately as Russell Westbrook awaits him on opening night. That might be a forgettable night for Frank, but it will also be a blessing in disguise. In terms of athleticism, you're not facing a tougher test than Westbrook.
The important thing for "The Frenchise" to keep in mind is that he doesn't have to be a superstar. What he needs to be is a leader. Not to pull a Jalen Rose, but Ntilikina should look at what his fellow countryman Tony Parker has done so good over the decades–know his role. This is Porzingis' team much like the Spurs were Tim Duncan's team. But Parker made sure he pulled through when Duncan needed him too and that is what Frankie must be to KP.
Strong chemistry between Ntilikina and Porzingis should be one of the top priorities this season. In order for that to happen, they have to be on the floor a lot. They need to get as many reps as possible and allow them to take their bumps now. If that results in under 25 wins, guess what? Michael Porter, Jr., Marvin Bagley, or Luka Doncic will be a Knick next year. Remind me again what the downside of that is?
Hornacek will realize this soon–if he hasn't already–and Frank will get the lion's share of minutes immediately. We know Ntilikina is a basketball junkie, Hornacek needs to give him his fix.
Ramon Sessions
Have you ever been playing pick up and some old head wants to run with you? You're hesitant, no one wants the old guy. But you take him anyway. The game starts and you find out he's probably better than all the other options that were available to you. That old head is Ramon Sessions.
There were a couple names floated around to mentor Ntilikina, Rajon Rondo being the biggest name. Sessions' name was the one ultimately called and the choice is not as lackluster as it seems.
The great part of Sessions joining the fold is that there is no expectation for him to start. Had Rondo been the choice he would be expected to start. The best way to get Ntilikina adjusted to the NBA game is to have him out there as much as possible. Porzingis was brought up in similar fashion and the fruits of his labor blossomed a lot quicker than any of us had anticipated.
Getting back to Sessions, where does he fit in this year's plans? It's hard to say, but Hornacek would be wise to complement Ntilikina's minutes with Sessions. He could start games and allow the rookie to close them out or he can be a more traditional backup and captain the second unit.
Throughout his career Sessions has never been a consistent starter. The most games he started was 39, back in the 2008–09 season for the Bucks. His second highest total was the 2010–11 season in Cleveland when he was mentoring Kyrie Irving. Even then he only started a little less than half the games. He should not expect a sudden jump in starts this season either.
He may still be crafty enough to get into the paint, he's always been blessed with feline quickness, as Clyde Frazier would say. Last season for the Hornets he started only one game and contributed minimally (6.2 points, 2.6 assists, 1.5 rebounds per game and shot 38.0 percent from the field). His job was not to contribute a whole lot but to relieve Kemba Walker when needed. That is what the Knicks will need from him this season.
His main job is to teach Ntilikina the ropes of guarding the best of the best. Night in and night out Frank will be tasked with corralling guys like John Wall, Kyle Lowry, and the aforementioned Irving. Speaking of Irving, Sessions should have a good amount of intel on the new centerpiece of the Celtics.
"He's not the most athletic guy but he can handle the ball in tight spots, can finish around the rim," Sessions told reporters. "It's still early on but he definitely gives me that Kyrie feel when Kyrie was a rookie" (via NorthJersey.com).
Take that quote for what you will, but I enjoyed it. Not because of the Irving comparison, but because it's a sign of the mentor bigging up his apprentice. Hornacek could choose to "start" Sessions in the preseason. But opening night has to belong to Ntilikina. The rookie should be the one tasked with slowing down the unstoppable force known to most as Russell Westbrook.
The rest of the season should follow the same pattern. Ntilikina starts, Sessions comes in for relief duty. The most important minutes Sessions will contribute won't even be logged on official scorecards. It will be the time he spends with the young rookie in the film room or on the practice floor.
Ron Baker
The cult sensation Ron Burgundy is back and with a brand new contract. Is he worth the $8.9 million the Knicks gave him? Let's ask my close personal friend Michael Scott: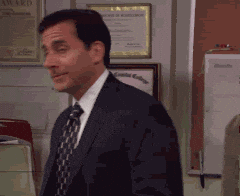 Did I mention he has a player option for the second season? Before you vomit; don't. While Ron Baker may be a tad overpaid, he at least goes 110 percent every second he is out on the floor. That doesn't sound like much, but need I remind you of the EZ-Pass defense we have been subjected too for the last decade? Baker isn't a star, but he can still be an important player in the guard rotation.
The easiest comparison for Baker is Matthew Dellavedova. No, it's not because they are both "gritty" white guys. They just happen to have similar frames and playing styles. Baker does not piss off the opposing team yet, but he does buckle down on defense. Last season Hornacek showed quite a bit of confidence in the then rookie Baker, playing him during crunch time over Derrick Rose.
In return for Hornacek's faith, Baker was serviceable. This season Hornacek will likely deploy him in that Delly role, playing Ron Burgundy at both guard positions. Similar to Dellavedova, Baker's numbers will never pop off the stat sheet. Taking charges, guarding the perimeter and hitting open shots is all that is required from Baker.
One area Baker must improve in is his three-point shooting. Baker figures to share the floor with a superior ball handler at all times. That means he will be asked to be competent off the ball more so than he will be asked to create with the ball. Again, this is where the Dellavedova comparison comes in.
What made Dellavedova so good for the Cavaliers, and to a lesser extent for the Bucks, was his ability to hit from three. With the Cavs, he shot 39.8 percent from deep, and last season in Milwaukee he dipped a bit, connecting on 36.7 percent of his threes. Conversely, Baker connected on just 26.7 percent of his 3-ball attempts.
An optimal season for Baker is becoming a 3-and-D Swiss Army Knife. That will require his three-point percentage to bump up to at least 30 percent. On defense, he will need to be frisky, especially when matched with bigger two guards. The minutes will be there for him at the start of the season. It's up to him to prove he warrants those minutes as the year progresses.
---
Jarrett Jack
Jarrett Jack's role is a little more of difficult to decipher. He was signed by the team in the eleventh hour of the offseason. The assumed intention is that Jack will be another veteran mentor for the young guys. As said before, the mission statement for this season should be to improve the infrastructure. Winning is great but the chief priority is getting Ntilikina adjusted to life as a starting NBA point guard.
Hornacek will likely Jack's name sparingly throughout the season. (It should be noted that Jarrett is on a non-guaranteed contract, playing for a roster spot in training camp.) His last meaningful basketball came two seasons ago for the Nets, in which he averaged 12.8 points, 7.4 assists, and 4.3 rebounds. His best days are well past him, but he still possesses a wealth of knowledge. He has played on good teams as well as some stinkers, and with those peaks and valleys comes a ton of experience Jack can pass on.
His job description should mirror Sasha Vujacic's from the past two seasons. Vujacic was a non-factor on the floor, but off the floor he was a phenomenal mentor. He played a big role in helping Kristaps, Willy, and Kuzminskas adjust not just to NBA life but to American culture. Porzingis, Willy, and Kuz figure to help Ntilikina with the adjustment to America, but Jack can help with the other stuff. That stuff includes intel on how to guard certain players or most importantly, how to build a routine off the court.
It's easy to forget life off the floor but that is typically the area where good players ascend to greatness or slip to mediocrity. Ntilikina in particular comes across as a sponge waiting to soak up as much knowledge as possible. That would make Jack's job that much easier.
---
We'll get a better idea of what Hornacek plans to do with the first preseason game on Tuesday. His system is predicated on strong guard play so it is vital to get the rotation figured out. The smart thing to do will be to throw Frankie to the wolves and let him adjust. The older guys–Sessions and Jack–will be mentors more than key contributors, and Baker could also relieve the rookie from time to time.
The goal for the guards this year is to get Ntilikina comfortable and involved. The bigs were able to do this with Porzingis and to a lesser degree with Hernangómez. Everything the team does has to benefit it's new centerpieces. The front office has done a decent job filling out the roles; now it's up to Hornacek and the players to execute.
---
Follow The Knicks Wall on Facebook and Twitter for more coverage, and listen to the TKW Podcast on iTunes and SoundCloud.