The 6-1 three-time All-Star Kemba Walker should be at the top of the Knicks' free agency list, although he'll likely re-sign with Charlotte.
In 2010, Bronx-native Kemba Walker improbably led UConn to the Big East (RIP) and NCAA tournament titles, putting up 24.6 points per game over 11 straight immaculate wins. The most indelible moment of that run came when Walker sent Pitt's Gary McGhee into eternal shame with just about coolest buzzer-beater imaginable—at the Garden, using his quintessentially New York signature step-back.
Now, with the Rice High alum set to enter unrestricted free agency, let's check in on the Knicks offseason: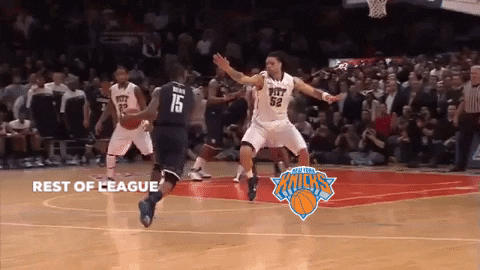 The Knicks have about $74 million in cap space, and their prospects are rapidly thinning. Kevin Durant's Achilles injury complicates things. Brooklyn is the favorite to land Kyrie Irving. Kawhi Leonard seems destined to stay north or head west in spite of New York's expectation that it can secure a sit-down. Klay Thompson isn't going anywhere. Using max slots on Jimmy Butler, Tobias Harris, Boogie, Nikola Vucevic, Khris Middleton, or (gulp) Harrison Barnes would be hugely underwhelming.
Kemba falls somewhere in between those tiers, but he's the Knicks' best bet at landing a star who can play next season. Walker has repeatedly stated his desire to stay in Charlotte, though he (kind of) left the door slightly ajar for a return home.
"This is where I'm from…[It's exciting] for me, when I get a chance to play in front of my family and friends, play in front of the people that know me best," Walker said about playing in MSG last December.
Still, Knicks fans (who are always wrong, present company included) have long assumed Kemba would just automatically want to run regularly at the Garden, despite his consistent rebuffs and his interest in, you know, winning.
He also seems genuinely content with the low-key vibe of Charlotte (he largely stays out of NBA social media and seems to be amongst the least brand-conscious stars in the league). Per Jonathan Abrams:
His game is the embodiment of the New York City product he is, full of pull-ups, hesitations, crossovers and dimes. Off the court, he would rather be as he is now, in a familiar setting and out of the spotlight. "I love it," he said of Charlotte during a conversation the previous week before repeating himself for emphasis. … "The pace of the city is pretty slow, which I love. It's not fast-paced like New York. … I'm able to just live pretty much a normal life." [Bleacher Report]
Understandable, but also:
Kemba made All-NBA Third Team this past season after posting 25.6 points and 5.9 assists per game on a talent-bereft roster in Charlotte. The All-NBA nod qualified him for the supermax, which enables the Hornets to offer a five-year deal at $221 million, while other teams can only go up to four-years, $141M. Michael Jordan and Mitch Kupchak will almost assuredly offer him the max, though Kemba might be willing to take less. Dallas is in the conversation, too, and the Lakers will be in hot pursuit.
Either way, Kemba doesn't sound remotely eager to leave Charlotte to surrender potentially $80 million to play for James Dolan.
But even if the Knicks put together the most persuasive deck of all-time and blow him out of the water in the pitch meeting (which they have zero history of doing), is that good?
There are obvious reservations about paying a 6'1″, 29-year-old point guard a max deal, and I'm sure there are those in the Knicks organization and plenty of fans who don't think it's a prudent move. 29 is typically when decline hits, and Kemba hasn't proven he can be the best player on a contender. He's never won a playoff series, though that's admittedly unfair, considering his best teammate has been…Al Jefferson?
Still, he's a three-time All Star, and the Hornets were substantially better when he was on the court. Despite his high usage (31.5% in 2018–19), his turnovers are low. He's also a better shooter than people may realize—a good sign for projecting him into his 30s as a potential number two option. He's been in the upper-30s in three-point percentage for the past three seasons, while upping his attempts to 7.6, 7.5 and 8.9 per game, respectively, over that stretch.
He's the opposite of injury-prone, suiting up for 81, 79, 80, and 82 games over the past four years. Despite the heavy load he's carried on offense, those are still almost all regular season minutes.
The Knicks have needed a point guard since…Clyde Frazier?
He can definitely make them a better basketball team, though it's hard to completely justify the deal for purely basketball reasons, even if Kemba was interested.
Corny as it may sound, the case for Kemba is more cultural and emotional. Beyond being the rare modern NBA star from New York, he's an utterly likable dude who exudes leadership and is extremely dedicated, competitive, and hard-working. He would undoubtedly bring positive vibes to the building and would immediately become a fan favorite. Besides a Unicorn-type superstar, a top point guard with off-the-charts intangibles is theoretically a smart allocation of resources (but not Chris Paul!).
Ultimately, the case for Kemba is this: The Knicks need to rebuild their vibe as much as their roster. They don't need to win a title immediately, and shouldn't be thinking that way—with or without KD.
The aim should be to string together multiple years of sustained improvement and organizational competency. If they want to start acting like a winning franchise on a day-to-day basis and not an irrelevant punchline, Kemba (not Kyrie) helps change the narrative, even if the back end of his contract is rough.
Based on everything he's said about wanting to stay in Charlotte, and everything Charlotte has said about wanting to keep him—and, again, those pesky $80 million dollars—it's hard to see the Knicks pulling it off. The Knicks don't seem particularly confident about signing two max guys, anyway, and that might be a good thing in the end. But the harsh possibility remains: if they don't land Kemba, they likely begin next season with a completely star-less lineup.
Related Content