Enes Kanter and company are at the Garden tonight, looking to snap a seven-game losing streak and head into the All-Star break with clear minds.
In the last game either team will play until after the All-Star break (Feb 15-18), the New York Knicks (23-35) will take on the Washington Wizards (32-24) in New York on Wednesday night.
It's been a tale of two cities for these Eastern Conference opponents. Washington, currently fifth in the Eastern Conference, appear playoff-bound even with star point guard John Wall missing large stretches. The Knicks on the other hand? Well, let's talk about the Knicks.
---
Life without KP
Seven days. Like the leftover survivors of a zombie apocalypse, Knicks fans are trying hard to forget just how long they've been without resident unicorn Kristaps Porzingis. Seven days. It's an injury that still hangs in the air like those freezing sleet-storms that plague New York every winter.
It's a development that feels so depressingly on-brand for the Knicks.
Things had already taken a turn for the worse even with KP in the lineup. Despite encouraging fits of play here and there this season from the Knickerbockers, their defense eventually evaporated and coach Jeff Hornacek dove deeper into the bowels of his "fire me" playbook than we've ever seen from him. After a nightmare road trip last month, the Knicks' playoff dreams all but died.
But there was still hope with KP around.
There's always hope with someone like that — a 7-foot-3 knockdown shooter that will dunk on anyone and everyone. He was like the Statue of Liberty, standing too tall to miss just beyond the Staten Island Ferry, lighting the way for our tired, our poor, and our huddled hoops fans. And now he's gone.
KP's torch has been extinguished. Doctors predict recovery will take around 9-12 months.
It's been seven days.
Mudiay!
Emmanuel Mudiay came into the NBA with a fair dose of hype, and if you watched him for just five seconds on a good day, you'd see why; he's 6-foot-5, athletic, and a more savvy, cerebral player than you might expect.
Check out this lob to Kenneth Faried against the Warriors during Mudiay's tenure with the Nuggets: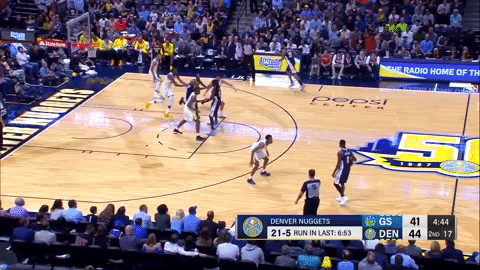 Sure, that's a set piece, drawn up so that Mudiay knows what to look for before he's even looking for it, but it's still an absolutely gorgeous pass. The flipside of that is actually Mudiay's biggest problem: when asked to improvise and create on the spot, his creativity disappears, defaulting to step-back fadeaways and pull-up contested threes.
Still, he's been impressive in New York so far. With zero practice time with the team, "Moody" put up 14 points and 10 assists in 29 minutes in his first game. His production tailed off for his second game with the Knicks, but the dude has literally had zero practice time with his new team. Give him time.
And for those wondering if the Knicks are shooing Frank Ntilikina out the door so soon after drafting him, it appears they actually plan to develop both of them together. Defensively, I think they'll become one of the peskiest backcourts in the league. There's some awkward overlap offensively that they'll have to figure out.
Matchup of the Night: Bradley Beal vs. The Entire New York Defense
I see a lot of this happening tonight:
Get better soon, KP.