The head honchos at MSG met with the media on Friday morning to discuss Carmelo, Kristaps, and the offseason changes.
Ah, Friday morning news conferences. Not many things more Knicks-ian than having a press conference during the day when everyone is working and not paying attention.
In an effort to get some of their duties out of the way before training camp kicks off next week, Steve Mills, Scott Perry, and Jeff Hornacek talked about the upcoming season. Let's see what they said!
The first question, of course, addressed the Carmelo Anthony situation, with Mills indicating that they completely expect to see 'Melo for Media Day 2017 this Monday. Scott Perry was quick to back him up, calling 'Melo a "professional." Perry said when he was hired that he went down to meet with him, and that the mutual respect between the two has been a constant source of positivity throughout the tenuous relationship:
"I went down to Florida and visited Carmelo…We both understood at that time that there would be a possibility that he would be back here."

— The Knicks Wall (@TheKnicksWall) September 22, 2017
Mills said that the reason why Anthony has been consistently omitted from talks about the future is that they want to focus on the young players, but the contempt that they've long held for 'Melo has been painfully obvious. Either way, don't expect him to be gone from New York anytime soon.
As far Anthony's role on the team is concerned, Mills deflected and asked the fans to have faith in the professionalism of everyone involved. Hornacek hopped in and said that "if you don't think I'm going to start him, you're crazy." He also added right before that starter comment that "players don't worry about trade talk." Sure, buddy.
These guys want you to know that they text Kristaps Porzingis. A LOT. They have a FURIOUS texting relationship, and don't forget it:
Hornacek: "KP and I, we have a good relationship…we texted with him all summer."

— The Knicks Wall (@TheKnicksWall) September 22, 2017
We get it, you hit KP with the 2 A.M. "sup" text when he doesn't answer on a Friday. Something tells me Porzingis is more concerned with using his international data to find a woman rather than answer a Steve Mills text.
Begley asked the panel if they think Porzingis will be ready to assume an alpha role if Anthony leaves, and Perry decided to not come right out and shower him with praise. Mills hopped in and said that "we're excited to give him more opportunities." Excellent save for Stevie!
Seemingly every September, the Knicks talk about establishing a defensive identity:
Hornacek: Big thing is defensive identity. We want these guys to get in the open floor some more. We have some great shooters on this team.

— The Knicks Wall (@TheKnicksWall) September 22, 2017
They've only managed to do that once, maybe twice this century, so take it with a grain of salt. We'll look at the defensive ratings in December and the Knicks will be near the bottom like they always are. Do we buy that defenses can get better through osmosis, which Hornacek asserted that none other than Joakim Noah's presence would push? I kinda don't. Tyson Chandler would like a word with the rest of his teammates at the end of his tenure.
A couple reporters asked questions about the Knicks playoff aspirations, which Hornacek responded to with some quintessential coach speak. "We plan to win every game." "We want to be competitive." "It's basketball, we play hard." Basketball guy, through and through.
The starting point guard role will be a big story to follow during training camp, with Ramon Sessions, Jarrett Jack, Ron Baker, and Frank Ntilikina expected to compete for the spot. Hornacek raved about Ntilikina's length, but we won't get much of an idea about who has this role locked down until the season gets closer:
Hornacek: "With Frank, we really like what we're seeing…He's doing some great things, and there's an opening there where he can compete."

— The Knicks Wall (@TheKnicksWall) September 22, 2017
On the wing, Perry threw some serious shade at Michael Beasley by calling him a "proven scorer," following it up with saying "he doesn't lack for confidence." The disrespect! He's made it clear he's a walking bucket! Look for the Beas to come out and prove his GM wrong quickly. Watch out, NBA.
Addressing the exit interview fiasco with Porzingis, Mills said that "we don't look back on things that have happened and try to figure out why they happened." And the Knicks wonder why nothing has changed in the last 20 years. Learning from your mistakes is Lesson #1 they teach you growing up! Bad look, Steve. Going to have to take your points away from your save earlier in the conference.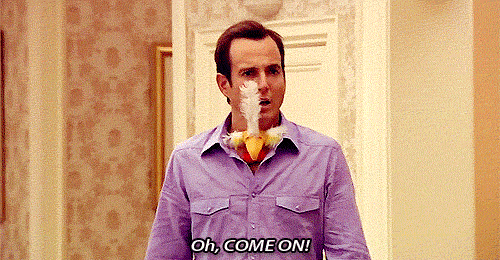 If I didn't know better, I'd think Mills and Perry got their "we have great people" or "there are a lot of really good people" from someone that also has the best words and a very good brain.
This is a personal grievance, but hear me out: when the reporters ask this panel about how the #EuroKnicks have looked, why can't Mills or Perry or Hornacek mention their names? And why can't they make a comment about their games that left an impression on them? "Yeah, Willy has looked great in the post against some of the best international competition." That's all I ask for!
The last Perry quote was "I think Knicks fans will be happy when they see a team that's playing hard and playing together." Respectfully, we're not allowed to be happy, Scott. You'll learn soon enough.
---
Find The Knicks Wall on Facebook and Twitter for more coverage of the team, and listen to the TKW Podcast on iTunes and SoundCloud!