Can an injury-plagued, lottery-bound Knicks team snap its five-game losing streak against the Heat in Dwyane Wade's final dance at the Garden?
New York Knicks (14-61) vs. Miami Heat (37-38)
Where: Madison Square Garden, New York, NY 
When: Saturday, March 30, 2018, at 7:30 p.m. ET
Fresh off their fifth double-digit loss in a row, the Knicks are back in action Saturday night against the Miami Heat.
Let's take a look at what to watch out for in tonight's contest.
Big Mitch Energy 
If the team handed out individual awards at the end of the season, there's no doubt that Mitchell Robinson would win ROY. Selected 36th overall in the 2018 NBA Draft, Robinson looks like the steal of the draft. His talents were on display in Thursday's contest against Toronto, when Robinson went off for his best game in a Knicks uniform. He posted a double-double, with career-highs in both points (19) and rebounds (21). Coming off the best game of his career, all eyes are on Mitch tonight.
M I T C H E L L pic.twitter.com/8vldJ2ZLsW

— The Knicks Wall (@TheKnicksWall) March 29, 2019
Injury-Riddled Knicks
If the season wasn't already hard enough to watch, the Knicks are crawling into the final stretch without many of their best players. Dennis Smith Jr. returned to action in Thursday's contest, but Noah Vonleh, Frank Ntilikina and Allonzo Trier will all miss Saturday's game due to injury.
It was announced Friday that Ntilikina is being shut down for the season. With just seven games left, don't be surprised if Vonleh and Trier have played their last games of the campaign.
Frank Ntilikina with his thoughts on being shut down to end the season:

"It's frustrating, but it's for my health, and I know it's the right decision to make right now."

? @MSGNetworks pic.twitter.com/1oyI5KXtmJ

— The Knicks Wall (@TheKnicksWall) March 29, 2019
Playoff Bound Heat?
Although the Knicks boast the worst record in the NBA, the Miami Heat will certainly be taking this matchup seriously. With only seven games left in the season, the Heat are barely grasping on to the eighth seed in the Eastern Conference. They currently possess a 37-38 record, giving them a half game advantage over the ninth seed Orlando Magic, who are 37-39 on the season.
With a tough schedule coming up—four of their six final games are against Boston (twice), Toronto and Philadelphia—expect some extra intensity from the Heat in tonight's must-win contest.
D-Wade's MSG Farewell
Saturday's contest marks the last time Dwyane Wade hits the floor at Madison Square Garden. After announcing before the season that he would retire at the end of the year, Wade has shown that he still has some ball left in him.
Coming off the bench in each game this season, Wade has averaged 14.4 points, 4.1 assists and 3.8 rebounds per game. Expect a large reception for Wade, who will likely be cheered at various points throughout the game. Although he has torched the Knicks and the entirety of the NBA for the past two decades, it's always sad to see a Hall-of-Fame career come to an end. With the playoff push in mind and Wade's last game at the World's Most Famous Arena, don't be surprised if he torches the Knicks one last time. It would be a fitting end.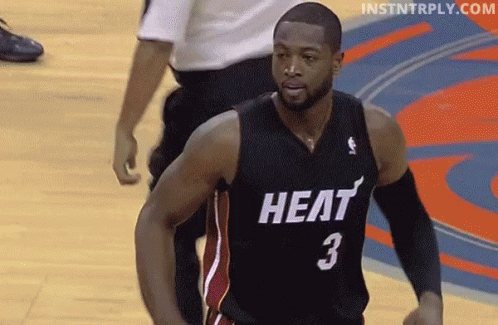 Only seven more games to go until the Knicks approach their biggest offseason in recent memory. Buckle up—it's about to get real interesting.
Related Content
»READ: Dwyane Wade's signature MSG performances