The Knicks take the third-fewest amount of threes per game in the NBA. Could this be a source of concern for the team?
The revolution of the NBA into a game that revolves around the ability to shoot the three-pointer is not a secret. The best teams shoot a boatload of threes and feature the best shooters in the game at the helm of their offense. In the 2013-14 season, 23.5 percent of all shot attempts come from deep; this season, 31.3 percent are long balls. The increase is dramatic in such a short period of time. Golden State and Cleveland have been in the top six each year they've met in the Finals, with their incredible displays of offense setting the stage for how teams have built their squads to challenge them for the throne. Despite that increase, one team hasn't quite caught up with the times.
The Knicks have been 20th or worse in three-point frequency for the past four years, including slotting in at 28th this season, per Cleaning the Glass. Their insistence upon these poor finishes can be explained away fairly easily, as the focal point of their offense for years has been a player that excels in the mid-range (Carmelo Anthony and now Kristaps Porzingis). Still, the Knicks were first in the league in three-point frequency during the 2012-13 season, a campaign in which they had a remarkable amount of success—for the Knicks, anyways. As currently constituted, teams that are towards the bottom in three-point frequency are either bad or have elite players that make their mark in other areas (Sacramento, Minnesota, and Phoenix round out the bottom four). The only team to make any noise in the playoffs that finished in the bottom three of three-point frequency since the three-pointer became the flavor of the day has been the Memphis Grizzlies, a team that relied on their defensive grit and veteran savvy to prosper. The Knicks have the capability to be a team that shoots the three with more regularity, but they haven't seemed to commit themselves to that type of strategy. Is this a coaching issue? Or a player issue? Let's take a look.
---
Jeff Hornacek's Phoenix teams had a reputation of being a fun, run-and-gun, three-point heavy team that relied on guard play and spacing for its success. The statistics back this up, as Hornacek's teams shot 27.3 percent of their total shots from three during his tenure while the NBA average was just 24.6 percent. The Suns peaked during Hornacek's first year, finishing fourth in the NBA in three-point frequency.
They were able to shoot the lights out during their 48-win 2013-14 campaign thanks to the likes of Channing Frye, Gerald Green, and Goran Dragic. Phoenix ran a heavy pick-and-roll system that spread the offense wide open, providing plenty of opportunities for shooters. Dragic spearheaded an attack that featured copious drives to the basket, creating crevices for his bombers to find beyond the arc. Green was a perfect case of how a coach can get the best out of a player thriving given more shots from deep. He shot 6.2 threes per game, and while him and Courtney Lee are different players, they are the type of players that need to be leaned on to knock down looks from downtown. This Knicks team doesn't feature the same type of guard play to create looks for their wings, as their leading driver is Jarrett Jack at just 6.1 drives per game. Green had it easier than Lee. We know that point guard play paramount in creating three-point shots, since it's no coincidence that James Harden has led the Rockets to shoot a whopping 48.7 percent of their shots from three. Now, it's important to note that shooting a ton of threes doesn't necessarily correlate with winning, as the Brooklyn Nets and the Dallas Mavericks are in the top-five this season in frequency. However, refusing to shoot enough threes while relying heavily on the mid-range is a recipe for failure.
The Knicks have enough issues right now without even getting to their shot profile. With Kristaps Porzingis and Tim Hardaway Jr. on the shelf, they are going to lose any game no matter what type of offense they run. Assuming Porzingis will be back next game and Hardaway Jr. misses just a week or two, let's talk about the offense assuming they are at full strength. THJ leads the team with 7.9 threes per game, with KP at 4.9 and Courtney Lee at 3.5. I'm completely on board with the amount of threes Hardaway Jr. has been taking, and since he's only connected at a 31.6 percent clip, that's bound to go up. He'll come around once he's healthy, which we hope is sooner rather than later.
Courtney Lee, on the other hand, could stand to eat more from downtown. Lee's attempts may be at a career-high, but his impressive shooting as a Knick means his that number should see an uptick. A 38.9 percent career shooter from deep, he's at 45.0 percent on the 3.5 attempts he's launching. A dude shooting that well from deep shouldn't be in the 29th percentile of three-point frequency among wing players. If he attempted even just one more three per game, the Knicks would be better off. Lee's had to shoulder a larger offensive load, particularly as a ball-handler, but that doesn't mean the Knicks can't run more action for him to get open. Simple plays like this where Lee serves as the screener could give him clean looks: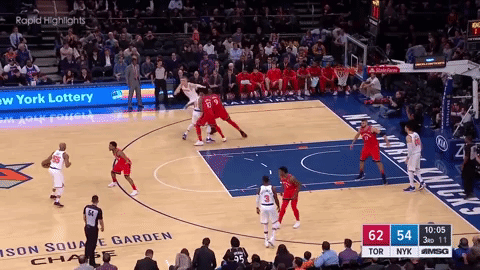 Porzingis draws the attention, the defense forgets about Lee, and bang. Wide open three. More of this!
For Porzingis, the issue is a bit more complicated. It was hard to seriously criticize anything about KP's game for a while, beyond his inability to recognize the double-team, but the secondary concern sprouts from his reliance on his (admittedly great) mid-range game. His attempts from deep are about the same as they were last year, but he's taking five more field goal attempts per game this year. His usage is way up as he's taken on the brunt of the Knick offense, while channeling those new opportunities into his post-game. Porzingis' improvement in the post has been a blessing, but he could still be attempting more threes relative to his total shot attempts. The easiest way for him to get looks from three is to continue to run pick-and-pops with the guards. He may be the most devastating pop player in the entire league, considering his height and the type of player that he is typically matched up with. We've all seen this play before, but we should probably see it run more often: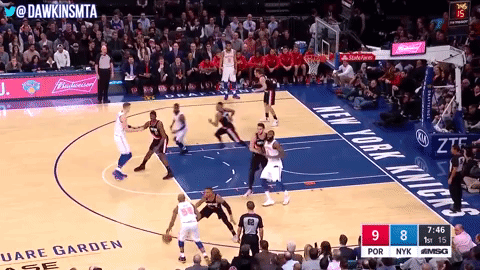 Noah Vonleh, an athletic big man, has to drop back to prevent the Hardaway Jr. drive, but is immediately left for dead once his help from the corner lags. The Knicks run these plays, but they could use a few more every game in lieu of the two or three post-ups each game where KP looks unsure of himself.
---
The Knicks are never going to be among the league leaders in three-point attempts considering that their big men love to post up and their point guards are sheepish about chucking from deep (for good reason). Nevertheless, an offense that is built on mid-range shots and minimal three-pointers is doomed in 2017. Look no further than the Toronto Raptors to see how that strategy falls apart in the playoffs. The Knicks will be hard-pressed to be a playoff team this season, but considering the cap sheet, the core of this team is going to remain intact for the foreseeable future. Shifting some of the mid-range looks to three-point sets would behoove them moving forward.
The Knicks don't have the exact personnel to emulate those old Phoenix teams, but there's no reason Jeff Hornacek can't encourage Lee to channel his inner Gerald Green and Porzingis to channel his inner Channing Frye (yes, that comparison is ghastly, but Frye's role as a shooter in the offense is similar to how Porzingis gets his threes). Injuries may end up driving the knife through the heart of this year's team, but the lackluster shot profile has already begun to drive the blade closer to impact.