We spotlight a new batch of players around New York's current draft range that can provide long-term success for the franchise, including Wendell Carter Jr., Jaren Jackson Jr., Michael Porter Jr., and Mohamed Bamba (not Junior).
A lot can happen in 14 days. When our first edition of The Knicks Wall Draft Board rolled out, there was a surplus of bigs, barren cupboard of wings, and uncertainty at guard. Since then, we have lost our large adult son, Kristaps Porzingis, for the remainder of 2018. Our second large adult son, Willy Hernangómez, was shipped out to Charlotte. Joakim Noah was told to kick rocks. Doug McDermott was shipped to Dallas in a three-team trade that brought Emmanuel Mudiay to New York.
In short, destiny chose which direction the Knicks would go for the rest of the season. Playoff hopes can be thrown onto the Cross Bronx. The mission for the remaining 24 games should be to develop the young guys, even if that means losing plenty of games into April. The problem is the team jumped out to such a decent start, so its ceiling (or floor depending how you want to look at it) in the lottery might be sixth overall at best.
The events of the past 14 days have not only had an effect on the rest of the regular season but on the draft process. The presence of Mudiay—who will be on the team at least through next season—lessens the need for a guard. With McDermott now gone, Damyean Dotson and Isaiah Hicks are the only young wings on the roster. The loss of Porzingis and Willy put a little more emphasis on bigs despite Luke Kornet stealing fans' hearts in his debut.
Before we get started let's review the ground rules.
Yes, Luka Doncic is on the top of my draft board. Yes, Marvin Bagley III and DeAndre Ayton are in the conversation. Barring a lottery night miracle, the Knicks will not pick inside the top five.
Now that we know what the roster will look like the rest of the way, the board will favor higher needs. For example, Collin Sexton is no longer the top target on the board with Mudiay now on the roster. The emphasis on this board, as you will see, will favor wings and feature some bigs.
Without further delay let's get started.
Current Record: 23–35, 11th in Eastern Conference
Projected Draft Pick: 9th overall
Biggest Needs: Wing Depth
---
Michael Porter Jr.
Forward, Missouri
There's a bright side even in the darkest of times. After sobbing uncontrollably about Porzingis, I remembered something: the Knicks can now stink enough that Michael Porter Jr. can fall to them. There was no chance he was dipping outside the top ten, but a slip due to injury concerns creates the opportunity to draft Porter Jr. within the top ten.
I'll be honest, I've been smitten by Porter since the summer when I thought this season would not turn into anything. The back injury, which he plans to return from this season, is a cause for major concern among league scouts. In terms of a gamble, Porter can be worth the payoff as he has legitimate star potential. The best scouting tools we have at our disposal are YouTube highlights, which aren't a good marker, but you can still see the polish:
Perhaps my favorite clip is his duel with Marvin Bagley III in which Porter led his team to a comeback win. Bagley was the superior guy down low, to no surprise, but on the perimeter it was no contest. Porter is a sniper, and at 6'10″, that's a big deal. Another positive is that he is a hoops junkie—he watches everything. He looks to pick up small things from other players' games to incorporate it into his own. In a sit down with Draft Express, he said, "I'll never be Steph Curry, but if I can take some of his stuff and put it into my game—at 6'10″ that would be hard to guard."
Whether the team believes Porzingis is going to be the same or not, I take Porter if I get the chance. If the Knicks are serious about building a new culture in MSG, they'll want to continue to add guys who genuinely love playing the game. That is what had made KP and Frank such likable rookies. He'd also give the Knicks that superstar potential on the wing position. Porter's ability to shoot will mesh well and give the team a big three you can truly get excited about.
Jaren Jackson Jr.
Forward/Center, Michigan State
While I was looking at videos of Miles Bridges for the first edition of this board, one common comment kept arising—where is the Jaren Jackson Jr. tape? He might not be Michigan State's "star," but he is, in all seriousness, the program's best player. Jackson currently leads the nation in box-plus minus at 16.3. He ranks second in the nation in block percentage (14.9) and defensive plus minus (11.3) as well as fifth in defensive rating (84.1), per Sports-Reference. He relished in turning away the attempts of his fellow future lottery selection, Marvin Bagley III, when Duke and Michigan State matched up earlier this season: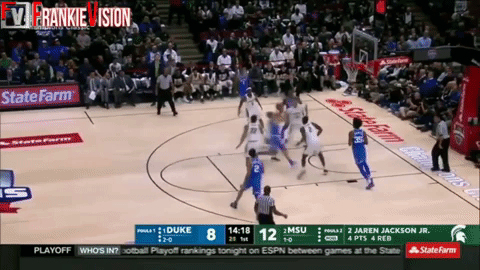 At 6'11″ with a 7'4″ wingspan, he projects to be a human fly swatter. He can play the four or five thanks to his ability to stretch the floor on offense (42.3 percent from three this season). You slot him next to KP and you create a potentially devastating "no shot" zone down low. On offense, his efficiency has been key: Jackson is currently shooting at 51.8 percent from the floor on just 6.3 attempts per game. Jackson is also just 18 years old with a foundation that looks like a surer bet than some of his seniors.
The only problem, however, is Jackson might play his way out of the Knicks' range. After Ayton, I think he is the best big on the board. He has the full package of offense and defense without the need to keep the ball in his hands. If by chance he is available when the Knicks are on the clock, then it would be hard to pass on Jackson. The core of him, KP, Frank, and maybe even Mudiay will give the Knicks the foundation to an elite defense that can transform into their identity.
Mohamed Bamba
Center, Texas
Mo Bamba looks like a NBA Street character brought to life. The first time I saw him play I had to make sure I was watching an actual game. The Harlem native replaces Hamidou Diallo as our hometown kid on the board, but his skills are what lands him so high up:
Bamba is part of that new wave of center that combines a gargantuan wingspan with shooting touch from outside. He is listed at 6'11″, but looks to be taller and has a wingspan of 8'0″, which makes him an absolute terror of a rim protector. His three-pointer looks like it can evolve into a weapon, although it has not shown up on the stat sheet yet (28.3 percent from this season). The great thing about Bamba, though, is that his true value can be as the Rudy Gobert–type rim protector.
Unlike Jackson, I think Bamba will play the five most of his time. A selection in him could tip the team's hand as to where they see Porzingis playing a lion's share of his minutes once he's back. Maybe the organization doesn't want KP banging with heavier guys at center on a repaired knee. If that's the case, then you slide Bamba next to him and you have elite rim protection. Jackson is the surer bet if you're going big men, but the Harlem product is certainly someone to keep an eye on.
Kevin Knox
Forward, Kentucky
Miles Bridges
Forward, Michigan State
There might be a little recency bias mixed in here with his game winner against Purdue, but I do have a legit reason for the bump up over Mikal. Given the uncertainty of what Porzingis will give when he gets back from injury, it might be worth taking a calculated risk on a player with high ceiling. Mikal has the highest floor on this board, but he projects to be one of the guys. Miles has the potential to be The Guy and is already dealing with the responsibilities of being the star player on MSU.
"THE BIG STAR DELIVERS"

Bridges knocks down the clutch three for the Spartans! pic.twitter.com/P9Fl6t4cxL

— Matt Spendley (@mattspendley) February 10, 2018
Mikal Bridges
Forward, Villanova
Collin Sexton
Guard, Alabama
Wendell Carter Jr.
Center, Duke
Had Marvin Bagley not joined Duke, I would think we'd be gushing over Wendell Carter Jr. a lot more. He pours in points at an extremely efficient clip (61.2 percent from the field this season) and gobbles up boards like Pac-Man (9.4 rebounds per game). Carter Jr. is at his best when he is setting up down low, but he has the ability to set up farther away from the basket if needed: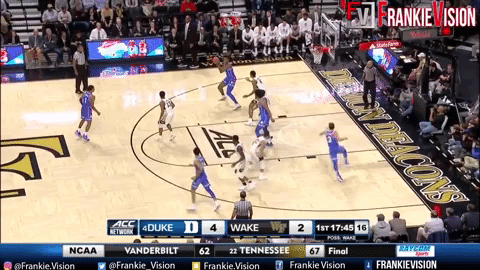 The great thing about Carter is he likes to set up shop in similar areas to Enes Kanter. We have seen how well Kanter and Porzingis work on the floor together, so from strictly a fit standpoint I see no reason Carter and KP cannot coexist. Also similar to Kanter, Carter does most of his damage with his scoring. His post moves are already polished and his shot looks clean. Wendell is most likely to be on the board whenever the Knicks choose and is certainly worth a look if the team does not picture Kanter in their future plans.
---
Other Notable Names
Luka Doncic, Guard, Slovenia
Marvin Bagley III, Forward, Duke
DeAndre Ayton, Center, Arizona
Trae Young, Guard, Oklahoma